DARLINGS

ROCK MUSIC CITY
By BOB ANGELL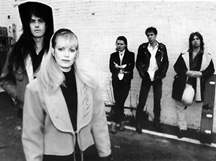 They're a little bit country. And more than a little bit rock 'n' roll. They're The Darlings, the Hub City quintet named after the ragtag, jug-totin' hillbillies who raised so much hell in Sheriff Taylor's Mayberry several calendars ago. These days they're sinking their rock 'n' roll roots deep into C&W soil. And distinct blossoms are beginning to show.
Momentum. That's what they call it in music biz circles. It means an act has forward moving energy. Onwards and upwards; that sort of thing.
At its center, the band is very much the Simon Ritt/Kelly Knapp acoustic duo — which is exactly how the project started out a few short years ago. Songwriter Ritt, whose rocker roots stretch back to tours with punk icon Johnny Thunders and Knapp (The Bristols' singer), both deeply ensconced in the Beantown rock circuit, discovered a shared love of country flavored material — something along the lines of the Gram Parsons/Emmylou Harris Grievous Angel sessions. Something musically well distant from the country schmaltz guys in Sears western shirts turn out in bars mostly Saturday nights. But writes some of the most stirring country-faced tunes you'd ever want to hear. Good solid stuff with high-stepping musical attitude and meaningful, introspective lyrics. Songs like "Into the Wild" and "Halfway Home" and his "Yesterday", a sweet 'n' sour western lament called "Dusty ol' Cowboys".
"Yeah, Simon's songs, well... they're so good. And we both reach way back to bluegrass stuff... even Irish music going way, way back. We really draw from an earlier source than our rock background," Kelly told me one morning last week. "I think this is really the natural way to go for me."
It's certainly working. With the expanded line-up adding the inscrutable Bobby Bear having his percussive say on the pagan skins. Rik Rolski slipping around the frets of the electric six-string and recently arrived bassist Greg Radawich handling the low end, they've had a remarkable run in recent months.
They won the country category in the highly regarded Boston Music Awards this Spring surprising many with the ease with which they raced away from the pack of entries — some with far longer track records.
Then just a couple of weeks back they took on Nashville as one of five national finalists in the Jim Beam Country Talent Search held at the famous Wildhorse Saloon in that city. An honor in itself. But (and this comes as no big surprise to anyone who's heard their landmark 4-track CD) what really rocked some jaded observers back on their heels is that they won the whole thing — and by a unanimous score from the heavyweight N'Ville judges. Now they're being gently courted by record execs. Not a bad little run; not bad at all.
"No-one was remotely like us," Ritt told me with a chuckle. "We were loud right out of the gate. But it really went over well. It was very encouraging."
Clearly, they flew their freak flags high. They looked and sounded very different from what is currently seen as Nashville chic. Light years from the faux country TNN-type hat acts that dominate the C&W scene today, The Darlings made few discernible concessions to fashion. When Ritt says they were "dressed to the nines", it's a down and gritty look he's talking about. No glittering Nudie suits, thank you very much.
"I had to laugh," Knapp said. "We were doing a publicity shot and in walks Simon with his cowboy boots and leather pants. And I had this bright orange dress on. Rik had his turquoise, pseudo-Indian thing going on, and Bobby had the loudest, red shirt. We looked like we came out of the circus. I thought 'What are these people gonna think of us?' We definitely stood out."
I've traveled often to see them crowded onto bandstands the size of your thumbnail in virtually every gin mill in Beantown. And in most of the cavernous concert halls, as well. Of course, it's the tunes that keep us all coming back. But, then, Kelly Knapp could, in all probability, sing the multiplication tables, and I'd sit transfixed. So would anyone with working earholes.
Ritt: "I gotta tell ya'... Life gets a lot worse then this. I get to stand onstage and play guitar with a great band and watch Kelly Knapp sing my songs."
It just doesn't get any better than that.