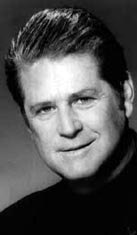 BRIAN WILSON
"I just wasn't made for these times" sang Brian Wilson on the "Pet Sounds" album back in 1966. It is perhaps the most poignant song title in rock history when you consider the times, the song itself, and who wrote and sang it. But it is not 1966 anymore and the times have changed. Brian Wilson, along with all the rest of us, has changed too.
Remember all of the "Brian's back" public relations campaigns of the past? It seemed that any time the troubled, elusive star would show up on stage with the Beach Boys or maybe step foot inside a studio "Brian's back" became the rallying cry for all of his devoted fans. Heck, 20 years ago Mike Love even wrote a song called "Brian's Back." It was wishful thinking at the time. Today however, if you're lucky enough to have his new CD "Imagination" in one hand and a pair of concert tickets in the other hand, Brian is back! The good news is that Brian Wilson will be playing at the Calvin Theatre in Northhampton on June 15th. The better news is that he'll be at the Mohegan Sun events center on June 20th. And by happy coincidence, that day just happens to be his 57th birthday
Because of Brian's personal problems, many hard core Beach Boy fans have long since been resigned to the fact that they would never again get a chance to see him on stage. This is what makes these shows so special. One of the many demons that Brian has battled to overcome is stage freight. Can you believe that this is the first time in almost thirty-five years that Brian Wilson is on tour fronting his own band? What can we expect? "You can expect to see a handsome guy like Brian Wilson out there playing and singing and trying to entertain people with some really good material," said Brian during a recent phone interview. "Mostly Beach Boys but some stuff from 'Imagination.'"
Brian will be fronting a thirteen piece band which features members of the alternative rock bands The Wondermints and Poi Dog Pondering. Included in the band as well is keyboardist Joe Thomas who produced the "Imagination" disc. "He's a genius for sure," said Brian when talking about Joe Thomas. "He's a genius producer. He's really that good."
The "Imagination" disc is Brian's first solo album of new material in over ten years. The amazing thing about it is the multi tracked vocals all sung by Brian. He sings every note on all (as many as 96) vocal tracks. "Basically I'm a background singer, I don't think of myself as a lead singer," said Brian when talking about this recording. "I think of myself as a background singer who can put a nice background sound together." And was there any message Brian was trying to get across in "Imagination?" "Yes, but you know what, it's all in the song Happy Days," he said. "The message in Happy Days is the story of my life. Going through all kinds of dissonance and confusion and everything and finally - into the light. The light where you can see that everything is real."
Included on the "Imagination" disc are two new versions of a couple of old Beach Boy tunes, "Keep An Eye On Summer" and "Let Him Run Wild." "There's no special significance with those songs," said Brian. "It was Joe's idea for me to do them. He said if I did them in a lower key they would sound better. We did them in a lower key and they sounded great." And speaking of old songs, Brian was asked what some of his favorites were. "California Girls has grown on me over the years," was his surprising answer. "I think it's our anthem. I think it's our best record. I think it's better than Good Vibrations. I think California Girls says more musically than Good Vibrations does."
Of course it's impossible to talk to Brian Wilson without the subject of the "Pet Sounds" album coming up. An album about a young man coming of age, "Pet Sounds" is as sophisticated as a symphony. It has been hailed by some as the greatest album of the sixties. Others have gone as far as to call it the greatest album of the rock era. "It sounds as fresh as the day it was made," said Brian. "The record was made to sound thay way." In concert Brian's band has been playing the two instrumentals off "Pet Sounds," the title cut and "Let's Go Away For Awhile." Both have never before been performed live. Also Brian has been playing "Lay Down Burden" from the new disc coupled with "God Only Knows" in dedication to his late brother and fellow Beach Boy Carl Wilson.
Another subject which came up was the infamous "Smile" sessions. It was during this time that "Good Vibrations" was recorded, but the "Smile" album was never completed and all these years the whole thing has been shrouded in mystery. Brian was asked if the "Smile" sessions will ever be released. "No," was his emphatic answer. "I junked it. We junked them. I didn't like where the music was coming from. I thought it was inappropriate for the Beach Boys and I junked it. We were taking a lot of drugs during that time and got carried away with hardly nothing."
And what of the Beach Boys? Brian's daughters, Carnie and Wendy, have been touring with Al Jardine while Mike Love is out there with Bruce Johnston and David Marks. "Carnie and Wendy are doing just fine," said Brian. "But Al is being sued by Mike for using the Beach Boys name with his band. Who knows what will happen. I don't know. " It's ironic when you think about it. Since Carl died in 1997 the Beach Boys have splintered into two factions. But the bottom line is that the other band members have made their living touring with Brian's songs. Now we have Brian back to remind everybody just who the creative force was. However, to Mike Love's credit, he has said that he would never make another Beach Boy record unless Brian was involved.
So what of the future? Brian was asked if he's looking forward to getting back into the studio again. "I sure am," he said. "I would like to try to make some music that people would like. Music where there's love. Whenever there is love present in your music, it's emotional security for people. People need music because it gives them emotional security and unconditional love. As soon as you realize that you're off and running with a whole new album."
So Brian Wilson is back. The creator of some of the most cherished music in rock history will be coming to our area - on his birthday no less - and on the eve of the first day of summer! What could be more appropriate.