TAJ MAHAL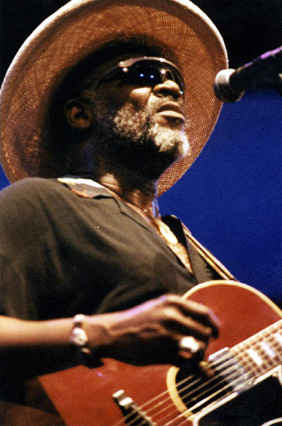 What a year 1998 has been for Taj Mahal. Having lived in Hawaii on the island of Kauai for the past dozen years, Taj has always been moved by the spirit of Hawaiian music. He fulfilled a lifelong goal with the formation of Taj Mahal and the Hula Blues Band and the recent release of "Sacred Island", a cultural and musical blend of love, joy, and harmony which truly captures the tranquil ease of the Hawaiian Islands. Now, just as this disc is being release world wide, there's Taj up on stage accepting his Grammy Award for best contemporary blues record of 1997 for his previous release called "Senior Blues." It doesn't stop there either. Columbia/Legacy Records has just released a 3 disc box set called "In Progress " In Motion: 1965-1998" in celebration of Taj's brilliant career. Once again, what a year it has been for Taj Mahal!
On August 20th what seemed like this area's entire blues community turned out to see Taj Mahal and the Phantom Blues Band (his touring band) play a free show at the Mohegan Sun's Wolf Den Lounge. Taj treated us to every song on the "Senior Blues" disc along with a number of other chestnuts as well. His band has a sax, trombone, keyboards, bass, guitar, drums etc. Taj, as always, plays a bunch of different instruments.
Before the show a relaxed Taj Mahal sat down to talk with Sound Waves about a wide range of topics. He had just recently been to the Woodstock reunion concert where he sang a duet with Pete Townsend. The pair sang "Behind Blue Eyes" and dedicated it to Abby Hoffman. "Well I didn't go to the original Woodstock, basically because I was working", said Taj when asked about the show. "So anyway I'm working with this organization called Music
Makers Relief Foundation which is for older musicians who probably never got the chance to get out there and get recorded and maybe do a little touring and impart their knowledge on this musical community as we move into the next millennium. And one of the guys there is a good friend of Pete Townsend as I am and have been for a long period of time. We'd always been threatening to do something together. So when I got a call to ask to come down to do the show at Woodstock word got back to Pete who said 'hey if he comes down there we gotta do something together.' So there we are, we're down there and we play a couple of tunes and a bunch of us got to hang out with each other. We hadn't seen each other in a while, Ritchie Havens and a few other people, and it was a real nice night."
Taj was asked if he was happy with the results of the "Sacred Island" project. "Oh yeah very", he said. "It took us four days to make it. When I got there nobody knew what the material was we were gonna do. These were guys I've been playing with over there and travelling with too. We were just a bunch of guys that hung out, gone to cookouts at each other's houses, our kids are in the same school. One guy is a school teacher and taught two of my kids but they're all musicians who do other things on the side. You know some people make a professional life out of it but alot of people don't. But it was great. The drummer Smitty (Kester Smith) is a guy who's played with me since the 70's, the same with the horn player, (Rudy Costa) So I had two guys in the band that had played on other projects but then all the guys had played with each other on different record projects so we all knew one another and were ready to rock."
During the 90's Taj has had a number of new releases out on the Private Music label. Just a couple of years ago however, Ruf Records released a live acoustic disc from a show in Germany back in 1993. "Well you know hey, a guy's out there working. I was doing from 1970 to 1995 about 200 shows a year", said Taj when asked about this release. "It don't make a heck of alot of time for other things but I was really happy just to be working and I developed several different kinds of shows. Solo shows, a trio show, shows with five pieces and bigger shows like tonight.
Anyway these folks had talked to me about this one show. They said 'remember we recorded you for the German radio.' I said yeah yeah I remember I think. They said 'well you should really listen to these tapes.' So they sent me the tapes and I kinda hemmed and hawed about it. I really didn't want to have to call them back and say that I thought it was the worst thing and their opinion about my music means absolutely zero. So anyway finally I put it on and I listened to it one time and thought 'Gee, that was really a good show.' Because I was playing so much I had no objective look at it. So anyway they put it out in Europe and then it worked its way over here. And alot of people got it and alot of people really enjoyed it."
Another project that Taj has been involved with is with the Music For Little People" label. Taj has done a number of recordings aimed primarily for children. He spoke of this along with a number of other issues. "That first happened during the 80's", he said. "At that time we had some rumblings in 1965 and then a record came out in 67 and then recordings again in 68 and 69 and those three records were different kinds of blues stuff and very different from what everybody else's records were. We got alot of notoriety about it. Then the 70's came along and I just started going off toward all the things that were musically exciting for me. Then by the end of the 70's disco came along and kinda just obliterated any kind of musical genres. As long as it was selling big on charts and people were dancing to it in clubs, the corporate suits got a hold of it and there really wasn't much room for anything else. So I just went and started playing over in Europe alot because the audience was there and they were not chart driven. They were very loyal if you came and played something they liked. They stayed with you from the time they got in touch with you musically. And so it just got kinda weird over here as the run went from Columbia to Warner Brothers to various other independent labels. Then in the 80's I did alot of projects and played on this thing and that. But I found myself with some open space and time and one of the things I'd always been thinking about doing is music that is designed for kids. Not playing down to them and realizing that the onslaught of the government taking all the educational money out of the school systems meant there was no more room for the kids to have bands, to hear music, to have any kind of music education. Arts and music and things like that were taken out of the schools. So you have a responsibility to see these kids hear the authentic American music that has been developed in this century and that most other music comes from. And here, all of the sudden, because of a certain kind of unfortunate commercial turn of events along with political moves, they were being totally denied the opportunity to hear the American music and make up their mind what they wanted to out of it and about it. So someone came around and talked to me about doing a children's album. I had a bunch of songs that I thought would really be good to do and I started out with the "Shake Sugaree" album and then went on to do other projects, you know with 'Music For Little People.'"
As the topic of conversation strayed from music to other more topical issues, Taj touched on the controversy surrounding our president. "O.K. the mess that Bill Clinton has gotten himself into. My opinion on that is number one, we have a country to deal with and it's really important that is taken care of", said Taj. "My personal opinion would've been, regardless of what the situation is, and regardless of what I think about his personal judgement about that situation, I think that everybody should have waited until he was well out of office and then dealt with him then. Because THIS! You know maybe Americans are used to it living here, if you can imagine what it was like, I just got back from eight weeks in Europe. To be in Europe and turn on the television and see Jerry Springer with the Dutch subtitles going by where over there they don't bleep anything out so everyone is cursing and shouting. And then to turn the next channel and CNN is talking about bringing down the president of the United States. I mean it is so pitiful it is the stupidest thing I can think of. You can't get teachers to get out of the $20,000 a year income bracket to deal with gun toting hoodlums but you can spend $70 million dollars to find out wether a man's getting a blow job in the oval office. I just don't get it! This is supposed to be freedom not free-dumb!"
There was so much more that Taj talked about. This is a story that could have easily been done in two parts. He spoke of all the young bluesmen out there making an impression on him. "There's lots of people I like", he said. "Ben Harper, Alvin Youngblood Hart, Corey Harris and Guy Davis. I like Keb Mo. I know alot of folks say he reminds them of me. There's another guy named Eric Bibb who's gonna do alot of stuff, and Mem Shannon too." Taj was told that Robert Cray had played the Wolf Den just four days earlier, "I'm just surprised how the whole New England blues scene has blossomed over the years", he said.
Taj Mahal has devoted his life to making music. It's not about a career", he says in the liner notes of his new box set. "It's about perpetuating something that came along centuries before me...You see, this music is the property of humankind. It emanates from African American humankind, but it extends all the way to embrace the planet. To be part of that embrace is enough for me."
Bill Harriman