VYKKI VOX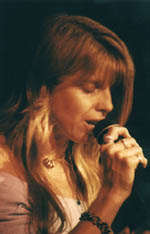 To say that Vykki Vox puts on a high energy performance is a bit of an understatement. The truth is she makes the energizer rabbit look like Al Gore on prozac. Vykki's music combines soul, funk, and rock into her own unique style and sound. She has a natural charisma and sunny way about her that's infectious. She'll bounce around the nightclub dance floor with her cordless mike letting everybody in on the fun. Other times she'll sing a sultry and seductive ballad and radiate with a sexuality that is simply intoxicating.
The Vykki Vox Band is based in the Boston area and is active throughout Massachussetts and New Hampshire. Looking for more of a presence in Connecticut, they recently played in Niantic winning over a tough Burke's Tavern crowd that has grown accustomed to hearing good music. Vykki's band, "the best team I've ever had," she says, consists of Justin Kolack on bass, Chris Rivelli on drums, Erik Ringstad on guitar, and Vykki's songwriting partner Dave Osoff on keyboards.
Vox and Osoff met nearly five years ago when Dave answered an ad in the Boston Phoenix that Vykki placed looking for a songwriting keyboardist. The pairing has been a great success as they have already written 17 songs together between their three CD's. "We like to bat ideas back and forth and come up with the music and the lyrics together," said Vykki when asked about Dave. "Sometimes I'll come up with the lyric and melody and he'll put music to it and we'll just kind of collaborate that way. And then sometimes he'll bring a piece of music that's just a basic idea and give it to me and I'll think about it and write some words and work on the arrangement and throw more ideas back and forth. It's very collaborative."
Vykki, who built her reputation with dynamic live shows, has really come into her own as a poetic songwriter. "It's always a challenge, " she said continuing on the same topic. "It's always interesting because you really pour your heart out and you hope that people respond well to it. You try to do your best to put something out there that people will enjoy and you're just waiting to hear what the response is. So you really are just laying your heart right out there for people to step all over if they want to but luckily people have been very kind and appreciative of what I'm trying to say and the music we're trying to project. And I rely on the other musicians in the band to really feel where I'm going and share each other's vision so that we can make it the best song we can. We approach each song that way."
Vykki's first disc came out in 1996 and was called "Soul Searching." It was released on Vykki's own label called Webrock Records. "We did more of a mixture of r & b and blues on that one," said Vykki about the "Soul Searching" disc. " It was only half original and half covers but we wanted to get the ball rolling and get something out there so people could see more about what we were doing."
Getting that first CD out is always a challenge for any musician and Vykki Vox is certainly no exception. "A friend of mine that I worked with years ago had a small studio so we were able to record there for not much money and get a really quality sound for it," she said. "Each record, you want it to be the best it can absolutely be. You put your whole heart and soul into it, all your thoughts for that period of time until you really get it where you want it. Or should I say you get it as good as you can with the time and budget that you have."
Vykki's next project, released in 1997, was a five song EP called "Woman's Touch." This short disc of all original material really showed her diversity. There was the funk/pop title cut along with an acoutic, jazz-tinged tune called "Alone." There's a swing/blues number called "Never Enough" and another funky number called "On The Run." But the highlight of the disc was a sedutive masterpiece called "Undercover." "So you like the more sultry vocal?," said Vykki when asked about this tune. "Yeah people tend to tell me that too. I like to belt them out but I also like the dynamics of going from a purr to a testifying growl."
The song "Woman's Touch" was covered again on Vykki's new disc called "Can You Feel It?" Why? "The reason for that was the 'Woman's Touch' CD was only a five song EP and that was supposed to be the lead in for the full length album, said Vykki. "So originally my thought was that I was going to have all five of those songs on the full length CD, but because it did take a little while for us to raise the funds to do the full length one, we decided that enough people had already bought the EP and we didn't want to put them all on the new one. But we did want to make that transition from the EP to the full length so we decided to do 'Woman's Touch' again.We just felt it hadn't gotten as much airplay as it could yet too. Alot of people seemed to respond well to that one so we thought being on the full length one, it might help."
"Can You Feel It?" is a fresh and exciting record, full of original material and standout tracks. Included on the disc is a song with an extended rap intro called "Purple Funk." "That song was inspired by a friend of mine who was told by her Jamaican friend to 'get out of that purple funk' because she was always in a bad mood," said Vykki. "I just thought that was the coolest saying so I wrote a song around it. I had a friend of mine, a Jamaican musician I met in Worcester named Delroy Martin come in and do some words. He really did alot more than I expected too. He just took the studio over basically and rapped all over it. We had to pick and choose different pieces to put in because everything he did was so good. It really brought the song to life."
Another interesting cut was a cover of the Johnny Cash song "Get Rhythm." "Both Dave and I were brought up with Johnny Cash," said Vykki. "My father really loved Johnny Cash. One of the first songs he taught my brother and me on guitar was 'Folsom Prison Blues,' and it was just part of our upbringing. That (Get Rhythm) was always a cool song, just really fun and a good message."
Also included was a poignant and heartfelt ballad called "Turn It Around."That song was actually the most difficult one for me to make happen on the CD because of the space that I was in when I wrote it," said Vykki. " I was in a low point emotionally, so it was really hard to bring that emotion back when I had been beyond that and I was happy. It took me a while just to kinda get into that mood of when I wrote it, to be able to get the emotion out for the song."
The outstanding song on the disc is a dreamy and melodic number, unlike anything this band has ever done, called "Hannah's New Age Daydream." "We're really proud of that song," said Vykki. "I wasn't sure if people would appreciate it but we're finding that they really do. They're responding to it very well. You know I wanted to call the album 'New Age Daydream' after that song, but I was terribly afraid people would think it was new age music. Anyway that's definately what we feel to be the centerpiece of the album."
So today Vykki and her band have their own label, their own website (www.vykkivox.com), and three excellent discs. Is the next logical progression being picked up by a major label? "Oh definately," said Vykki emphatically. "We formed our own label because it is such a competitive business and you really need to be established before the larger labels will pick you up and help support what you're doing. So we've just been working as hard as we can to spread the word and make the best music we can and just get around. That's why we're trying to spread out more in the Connecticut area because we've had a lot of support there from people who are looking to hear us play. But definately we would like to be touring more extensively with the support of a major label."
Back at Burke's Tavern Vykki sang all of her new songs along with crowd pleasing covers such as Stevie Wonder's "Superstition," and "Higher Ground." She also belting out rousing renditions of Aretha Franklin's "Think" and Janis Joplin's "Maybe." She ended the show by getting everyone there singing along with her to the Sly Stone song "Thank You (Falettinme Be Mice Elf Agin)."
There's so much more that can be said about Vykki. For years she's hosted the "Ladies Sing & Beyond Showcase," a monthly television show aired on Boston's BNN-TV3. This is a show that features the best female musicians in the New England area. Vykki also comes from a musical family and she spoke of her grandfather who, as a drummer, supported the family during the depression. She also spoke of her father, a multi-instrumentalist musician, who passed away when Vykki was ten but not before leaving her a rich musical legacy.
This is someone who really could be headed for stardom. She has a great band backing her. She has the material. She's a dynamic entertainer. She's likable, and yes, she's beautiful. Now is the time for Vykki Vox.