TUTU JONES

By Bill Harriman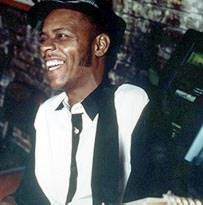 I'll admit that I always considered the Chicago area to be the blues capitol of the world. However after talking to blues guitarist Tutu Jones of Dallas I'm beginning to think that the richest blues tradition in this country's history is from the state of Texas. "Yeah, I hear people say that Chicago is the headliner for the blues but I don't agree with that," says Tutu. "Texas got some of the deepest musicians and artists you want to see. Texas had always been known for its deep down dirty blues."
Tutu Jones should know. He's been playing in blues bands for the past twenty-five years and, get this, he's not yet thirty-two years old! His grandparents were blues musicians. His uncles fronted their own blues bands. And his father, Johnny B Jones, played drums and guitar behind none other than Freddie King among others. Tutu Jones is a descendant of this rich blues tradition.
"The first man that ever started branching out and developing a career for himself with the blues was Blind Lemon Jefferson," said Tutu as he continued giving me a lesson in blues history. "He hung out on the Deep Ellem scene and I don't stay too far from there now. I can look out my back window and see downtown Dallas and Deep Ellem or what they used to call central tracks. That's where both Blind Lemon and T-Bone Walker used to hang out." Blind Lemon cut his first records back in the 20's. He sang old country blues with a big burly voice. T-Bone Walker is regarded as the first electric blues guitarist. To this day B.B. King says he owes his greatest musical debt to T-Bone. It was T-Bone who wrote the original "Stormy Monday." Texas blues indeed!
You see Texas is known for its dominating musicians," said Tutu. "From my generation of hard pickin' it comes from Freddie King. He inspired alot of musicians with his playing because not too many really heard a blues player back in the early 60's turn up his guitar like that and control his volume. He was the one who dominated the Texas scene before Stevie Ray and Jimmie Vaughan came along. Freddie used to take the stage and just wrap it up. You could feel him, not only just hear him. So Stevie Ray and myself and a whole bunch of others we grew up around Freddie King and we got a chance to get a good teachin' from him. He's still a big influence today."
Another major influence on Tutu was Z.Z. Hill. Just like Tutu he was a real soul/blues artist. His hit song of 1982 called "Down Home Blues" became an anthem to blues lovers. "When Z.Z. came out with "Down Home Blues" that kinda opened doors back up again for many blues artists," Tutu remembered. "The disco had gotten so big that it nearly took over. That one song and then along came Stevie Ray and man they opened the doors for the blues artists to come back in and start making a living again. This disco and rappin' stuff it's good music, I like some of it and I enjoy listening to some of it but it's not the same as original traditional music. When you listen to soul and R & B, you're listening to the real stuff where all other music developed from."
Hey, enough about everyone else! After all Tutu Jones had arguably the best blues record of the year in 1996 with his first record on the Bullseye Blues label, the aptly titled "Blue Texas Soul." Tutu got a Handy award nomination in the soul/blues category for this effort. It was a real honor for a guy this young to be nominated in this particular category. His new CD "Staying Power" should also warrant a nomination, something Tutu wouldn't mind seeing. "I hope so but I ain't got my hopes up for it yet," said Tutu. "I'm looking for this album here to turn some more heads around to me you know. And I'm sure it will once Bullseye starts marketing it. "Blue Texas Soul" is still going strong for me, everybody's still likin' it. But "Staying Power" man it took alot of hard work but I really enjoyed writing and producing this album."
"Staying Power" is Tutu's third solo effort. In the mid 90's he had a disc on the JSP label called "I'm For Real." He's really come in to his own in the short time since then. "I've grown from "I'm For Real'," Tutu said. "I brought some more soul to this album. You know I like to keep it mixed with between the soul and the R & B and the deep blues. But I still play the blues where you can hear that pop for the new generation but it still got the roots to it you know. I never try to leave the roots of the blues."
One of the new songs on "Staying Power" is called "Can't Leave Your Love Alone" and features his wife Sheila on backup vocals. "She been singin' on and off for quite some time," said Tutu. "Back in high school she used to go around and sing with some of the bands in the area but then we started having kids." Tutu and Sheila have a son and a daughter.
The new disc is all original material which is both interesting and a contradiction because Tutu readily admits that he loves doing cover songs or blues standards as he calls them. "The reason I do cover songs is because they are some of the songs I grew up listening to down through the years," he said. "So it's good to re-record and bring them back. Those songs never die, songs like "The Sky Is Crying," "Have You Ever Loved A Woman," "I'll Play The Blues For You," are standards. Alot of people ask you why I play the same thing they heard so and so play but they don't understand those songs are standards. So everywhere you go you gonna hear them songs. I don't care where you are, if you go in to a blues crowd you gonna hear them songs. The reason I play them is because I grew up playing them with my uncle back in the early 70's. So I decided to keep these on my roster. That's the reason I do them songs."
So today Tutu Jones is considered the best of a new generation of soul/blues artists. He's been around this music his entire life and in fact joined his uncle's band, L.C. Clark & The Four Deuces, as their full time drummer back in 1976. From there he moved on to play with R.L. Griffen & The Dallas SuperStars in 1979. Soon after he began hiring himself out to people like Little Joe Blue and Z.Z. Hill. He even had a stint in Little Milton's band for a while. During this time he gradually moved away from the drums to concentrate more on the electric guitar. He still likes the drums though and in fact played the drums on half of the songs on "Staying Power."
"I learned alot from people down through the years," said Tutu. "I've been a studio musician and a backup musician for other artists but I've got my own unique style and it's starting to show now. I won't be copycattin' nobody else, I don't want to do that. I try to stay open to new ideas you know and every once in a while you're gonna hear some Freddie King, Albert King, Ernie Isley, or even George Benson in my music. I learned down through the years from my daddy and my uncles, I take all the things I hear and just make something out of it. Alot of guys don't know how to do that. They copycattin' the people they listen to too much. So they wind up sounding just like them. See what it all boils down to is what really makes an artist is his own style, his own taste. That's what makes an original artist an original artist. We all learn from different people but I took what I learned through the years and put it with my taste and my style and try to turn it around to something new."
I've gotten to know Tutu Jones a bit during the past year and a half and he's one of the most likable persons you'd ever want to meet. Last year he played at the Maple Tree in Simsbury and Black-Eyed Sallys in Hartford. It was the first time he ever played in Connecticut. We're working on getting him up here on a more regular basis though. You can count on that. In the meantime look for Tutu at the Riverside Park blues festival in Agawam, Massachusetts on the weekend on September 26th. He'll be the one playing that deep down dirty blues. Texas style!